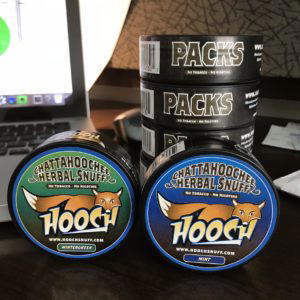 Back this morning with the first of several long overdue product reviews. First up is a new pouch product by our friends at Hooch Snuff – PACKS! These PACKS are a pouch product that represent Chattahoochee Herbal Snuff's first entrance into the pouch game and not to bury the lead but they've nailed it.
PACKS are currently available in Wintergreen, Mint, Classic and Spitfire which are the flavors that I'd consider the "traditional" dip flavors.
NOTE: Also available are Whiskey PACKS which will be followed closely by Peach.
Hooch PACKS Background
Here's some background on these products directly from Hooch before I get started with my review:
Our signature Hooch's signature product was designed for mouth-feel, but with pouches the texture of the ingredients isn't very relevant.  So we decided to focus on the best, longest lasting flavor. To accomplish this, we infuse the leaves with the flavors as well as negate any of the bitterness inherent in the mint leaves we use. 
Our pouches come dry, which means it may take a little for the flavor to come out, but will stay with you longer.  Wet pouches tend to lose their flavor as soon as the wet flavoring is gone and leave you with the bitterness of the mint leaves inside.  Also wet pouches will degrade the seal of the pouch over time. 
Hooch PACKS Review
I'll admit that I was a bit leery of a completely dry pouch. It goes against everything that the former dipper in me know. Open up a can that's dry as dirt? Fuck. Gotta throw it away or doctor it to make it usable again. That said, when you open these they're SUPER dry and if you didn't know they're SUPPOSED to be you may be inclined to return them thinking you got a bad batch. Even after you pop one in it takes a few minutes for them to fully get juicy but once they do you're in for a treat.
I started out with the Wintergreen as I'm inclined to do and the moved on to Mint. These were both spot on with my memories of Skoal Wintergreen and Skoal Mint Bandits from a flavor perspective though these Hooch PACKS were a bit bigger and softer in my mouth which I really appreciated. These were also much "spicier" than I remember dip being. This is clearly there due to the cayenne pepper that's added so people looking for that "burn" will get it here for sure.
I moved on to the Classic and Spitfire flavors. There's less burn here (even in the Spitfire) but there flavor here is top notch like always. As I get further and further along in my quit I'm finding that these "classic" flavors hold less and less appeal to me but if you're just coming off dip and are early in you quit you're going to absolutely love these as the flavors are damn near perfect.
Hooch took a good long while getting into the pouch game and I can honestly say I'm glad they did. They took their time and developed a truly outstanding group of products. I'm looking forward to seeing what flavors they come out with next!
Hooch PACKS Ingredients
Ingredients for all Hooch products can be found on their website here: Hooch Snuff Ingredients
You can order Hooch PACKS as well as their other product on their website at  www.hoochsnuff.com
Special thanks to Chet May from Hooch Snuff for providing me samples to try and review.
Disclaimer: In accordance with FTC Guidelines, we hereby inform this site's viewers that we occasionally receive products for review purposes. At no time has payment has been made in order to elicit positive reviews. Affiliate links may be present in the above content. Read our disclosure policy for more info.
Have you tried Hooch Snuff PACKS yet?  Contact us and we'll add your review to the site!