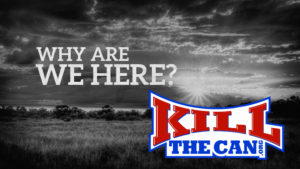 It started in Junior High School in Western Nevada. The culture was such that I actually shared chew with my math teacher. I started with Skoal and mixed in some Red Man and Bubble Yum on the baseball diamond. I quickly "matured" to Copenhagen and it became my constant companion and I learned to keep it on the low down. My Grandpa chewed, my uncles chewed, my cousins chewed – like the Hank Williams Jr. song, it was a family tradition.
It was my companion for the better part of 34 years. I dipped while boxing, playing baseball, going to Church, attending a Christian College… I dipped everywhere. At college I met an amazing woman and a miracle happened when she married me. I pretty much had her fooled, but like all quitters that eventually swim out of the river of denial to the banks of freedom, I discovered she knew all along. It was there with me on every hunt, on every run, on every fishing trip, on every hike, on every vacation, every day at work and when my children were born. I became a master at hiding the stuff. You know the ring most guys have in the back pocket of their Levi's? My left calf muscle has an indentation from hiding the can in my sock.
I stopped chewing for periods of time, one time making it a year or two, but I never wanted to quit. I humanized Copenhagen and it became my imaginary friend. I spent more and more time with it as time moved along. I became obsessed with chewing after the "daughter I always wanted" died from Melanoma at a young age. I was disgusted with life, disappointed with God, and essentially issued a challenge to tobacco "Come and get me bitch!" I cannot explain why I took that approach to her death, but I was convinced I would one day do battle with cancer and do so honorably.
I battled the thought of "How could a loving God allow this to happen?" But time mourns for no one and I was blessed with more than most, including 3 incredible sons. Each of them won awards for their work in a program called DARE (an elementary DRUG awareness program) and represented their schools by giving speeches related to the dangers of drugs and alcohol. I sat through each one of their presentations hoping my boys would never know I dipped. Of course, they knew all along. I was a good church member, successful business man, faithful husband, and devoted Dad, but inside I was dying a little each day.
My nephew (nv2056) quit and he told me about KillTheCan.org. I thought "Good luck!" while counting the days until we would share a dip together like all the other times we stopped. As I monitored him, I realized that I was watching the birth of freedom. I threw caution to the wind and quit. I was scared — scared to death, desperate, crazy, temporarily insane… I went nuts on many KTC'ers, new and old, and lived through the fog which in my case lasted for a long, long time. My nephew and I came up with the idea of "STAY SOLID." And that phrase encapsulates how I feel now and in my commitment to the future. No one can describe how good it is to be quit. Words are inadequate to describe life without dip. I am a discoverer noticing things once ignored. Everything is crisp. There is hope for all enslaved by tobacco, but freedom comes with a price. Don't be a coward, be courageous and lose the can. Here's to life on KTC where all of the losers win. Day 100 for me is a benchmark and a day to reflect on the solidity of the decision I made the day before Valentine's Day in 2013. Thank you, most of all, to my wife and boys – I have received from them more than I deserve and look forward to serving them the rest of my life. And thank you to my nephew, as he took the first step and led the way – I owe him a huge debt of gratitude. Lastly thanks to guys like Diplessinjax, Roamcountry and Kdip and others whose names were lost in the fog. I am forever in debt to the eclectic group of quitters that make up KTC. STAY SOLID!
Stacy
N2chukar
NOTE: This piece written by KillTheCan.org forum member n2chukar