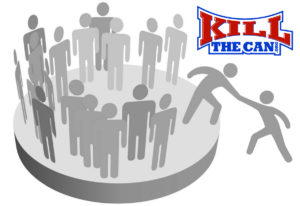 I type this at Day 123 for reference. This is for the person suffering on Day 3 and reading HoF's for support.
I have written and re-written this speech 50 times, so much that is has been neglected, so I went a different way with it.
Saturday, August 2nd was Day 121 for me. There was a particular thread in intros that I was involved with that had enraged me. At the time of writing this, it is still in play, but I have moved on. I am in no way angry with that issue anymore, but I am trying to illustrate a point with it. I was mad……..I was LIVID and ready to post with rage in my head, but instead I reached for the phone, and texted a quit brother I haven't texted in awhile. 10 minutes later I was having my first live chat with a KTC person. Most of the call was shooting the shit, but we did talk about our quits as well. He ended the call with "thank you for saving my life".
Pause for a minute and re-read that.
A person who I have never met in real life, and only just heard his voice for the first time thanked me for saving his life. As I type these word I am shaking over the power of that statement. Those 6 words propelled me out of my funk and made my entire weekend.
Everyone who has ever posted on this site has saved my life. From the July 2014 quit group, to the one and done posters. From the vets with thousands of +1's, to the vets who left this site a month ago. From the newest pre-HoF group, to the vets still active with those new quitters, you have all made my quit strong, and I thank you all. My wife and kids thank you as well.
Some of you know I am horrible with technology. Minutes after I hung up that call, I noticed I had 2 missed calls. Once I figured out how to retrieve them half an hour later, I was embarrassed to see one was 3 weeks old…….my HoF day. It was Mule wishing me a happy HoF.
Again pause, and re-read that. Digest that, and thank the power of the KTC, I know I do everyday.
I am proud to be quit with you all today.
NOTE: This piece written by KillTheCan.org forum member Thumblewort