Thoughts
A Day at the Dentist For a Former Tobacco User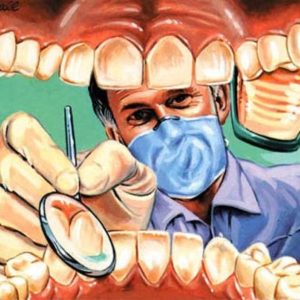 Back when I was a dipper I hated the idea of visiting the dentist.  I've always been pretty good about brushing twice a day, flossing when necessary and generally keeping up with my oral health — oh yeah, except for that whole 17 year can a day Kodiak habit.
I can remember vividly the days leading up to a trip to the dentist – I'd move my dip around to different spots in my mouth to cut down on the amount of wear and tear on my gums in those areas.  I'd go the ENTIRE morning (a couple of hours) without a dip before my appointment.  I'd be overjoyed when the doc gave me the OK and I'd never once mention that I was still dipping.
On the way out of the dentist's office I'd open up my can and pop in a fatty.  Did you hear that?  On the WAY OUT OF THE DENTIST'S OFFICE.  How stupid I was.  I'd just received an "all clear" from the dentist so in my mind I was good to go… good to continue chewing.  Stupid, dumb, ignorant.
Today was different.  Today I marched in there, sat down and had no fear.  I've been dip free for over 1,000 days.  I know I'm still an addict but I'll never again fear going to the dentist.  I don't have to lie.  I don't have to "prepare" myself for an office visit.  I didn't realize it when I got dressed this morning, but I happened to put on one of my KillTheCan.org shirts.  Kind of ironic don't you think?
For those of you out there who have quit but haven't gone to the dentist yet — DO IT!  Tell him everything.  Tell him how long you chewed, how much you chewed, etc.  Spill your guts.  He'll give you a good checkup and you'll gain peace of mind knowing that you're in good shape moving into your quit.
For those of you out there who haven't quit — why?