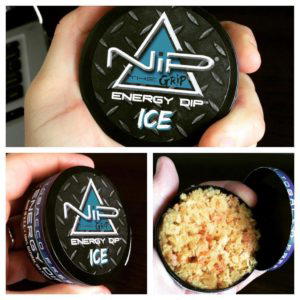 It's been quite some time since I first posted my review of Nip Energy Dip. In fact it was one of the first smokeless alternative reviews I did way back in 2011. Back then, it was known as Nip The Grip. You can find that review here. Sadly, we lost Nip founder Lee Lewis back in May of 2013 but the team at Nip Energy Dip has thankfully carried on and only only kept the product on the market but are doing some great things in terms of boosting the brand's visibility.
General Thoughts
Before I get into my re-review I wanted to really give you an idea of what Nip Energy Dip looks and feels like. As it's made from natural sea sponge it really is VERY different from anything out there on the market. For some people this will be OK but for others who are looking for a more traditional tobacco product it may be a turn off. I put together this quick video to give you an understanding of what the product is like.
OK, with that out of the way let's get in to the review.
Nip Energy Dip Ice Review
I'm happy to say that the product itself hasn't changed much since I first reviewed it. It still has an amazing smell upon opening the can and gives you a surprising "burst" of flavor when you pop it in. I say surprising because I really didn't expect so much juice to come from a product that is literally a dry sponge.
The energy "juice" produced by this product is made to be digested but the sponge itself is not. In fact, as I sit here writing this review I've got a small piece of sponge that's working its way down the back of my throat. A quick sip of water will wash it down but I'd recommend making sure that you don't let this one "float" too much.
As with my original review, this one is still "rough" to me. If I was using fake dip with any regularity I'd have a hard time with this one ripping up my gums. That said, the outstanding flavor makes this one a nice alternative and I'm guessing if I were using it regularly I'd most likely get used it. Would love to hear from a regular Nip user to see if that's the case.
Final Thoughts
Nip Energy Dip is unique in the smokeless alternative world as it not only has a great smell and flavor but it's also the only product out there made from all natural sea sponge. Its infused with Vitamin B-12 and caffeine so I spose you could put this in the "supplement" category as well. It's a bit rough for me for extended regular use but has an outstanding flavor that is quite a bit different from other wintergreen or mint products out there. Give it a shot and let us hear from you.
You can find Nip Energy Dip on their website at www.nipenergydip.com where you can get a single can, a 6-pack or a 12-pack. Special thanks to Lexi from Nip for providing me samples to try and review.
Disclaimer: In accordance with FTC Guidelines, we hereby inform this site's viewers that we occasionally receive products for review purposes. At no time has payment has been made in order to elicit positive reviews. Affiliate links may be present in the above content. Read our disclosure policy for more info.