On May 5, 2016 the KillTheCan.org support forums hit another huge milestone – 4 MILLION posts!  The forums have grown beyond any of our wildest dreams in the past 9+ years since they were formed.  I honestly can't tell you how happy this makes me.  There are quite literally thousands of people (coming up on 27,000 any day in fact) that are battling this addiction on a daily basis. The continued growth of that community is proof that if you're looking to quit dipping or using any nicotine products… you are NOT alone in that fight.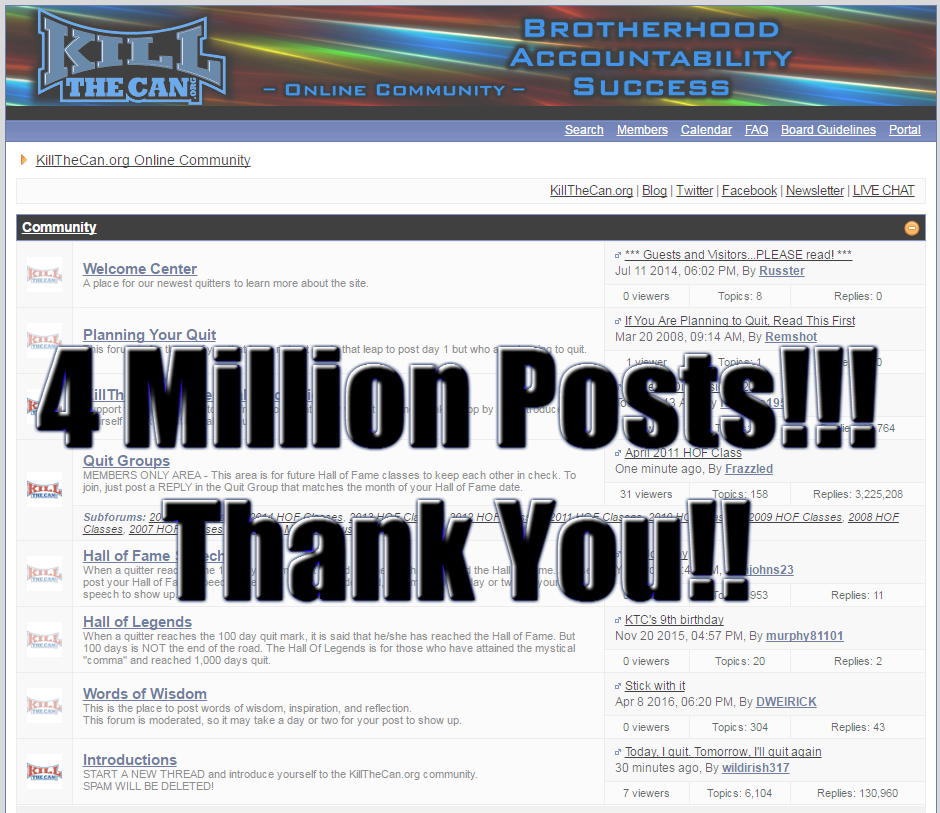 While being the biggest was never our main goal, we've always worked to be best source of information available for those looking to quit dipping.  The more members and conversation we have, the more folks we've got who KNOW WHAT THEY'RE TALKING ABOUT when it comes to quitting these products.  We used smokeless tobacco.  We are addicted to smokeless tobacco.  And we've successfully QUIT smokeless tobacco.
In addition to our forums, we've got several other outlets available to the potential quitters out there:
The tools are there.  They're free and they're waiting for you.
We'll never tell you it's easy, but we'll show you the way.
What are you waiting for? It's Time To Be A Quitter!