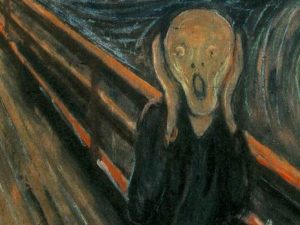 Fear.
Complete, paralyzing, clammy, sweaty fear.
Waking up with a knot tying up my guts, shaking, and trying to wake up from the nightmare.
I'm going to die.
I'm going to die, and leave my beautiful wife and amazing darling little boy with nobody to pay the bills, fix the horribly clogged drain pipe, change the brake pads, and everything else that goes along with being a husband and father. I'm going to die of cancer because until this horrible second, it wasn't real. I'm going to die a most other than honorable death because of an addiction. I am the worst person in the whole world.
And it all came crashing down at once.
This was my night on February 11th. When my mind cleared a little, I finally knew that I just needed to stop. Not in a week; not at the end of whatever was left in the tin, but right-god-damned-now. And then it all got a little less scary, and the hooks twisting my stomach began to loosen. I was finished with tobacco.
After that night, I really think that I could have just stopped completely, on my own, and never looked back. Maybe, maybe not. But I found right here a group of people going through the same thing, and some people who already went through what I was going through and were willing to yell at me for being the stupid, selfish addict that I was. People who not only cared about my success, but made me care more about disappointing them than dealing with a silly craving to a chemical.
Fear of not only disappointing those you journey with, but devastating those you love, cuts deeper than addiction.
Now, when my beautiful little boy looks into my eyes and his smile lights up the whole world, I can smile back knowing that I have taken care of at least one thing that could have really screwed up his world. And I can look forward to teaching him how to change a flat on his bicycle, how to make the perfect cheeseburger, how to sweat a copper pipe joint, how to respect the women in his life, how to live, love, and be the best man he can be. And that's better than anything else.
Thanks, everyone.
NOTE: This piece written by KillTheCan.org forum member adam1974