Success
Sweet Success Starts With Support
If you follow us on Facebook, Twitter or Instagram this is going to be a repeat and for that I apologize.  However, this is just too awesome not to share one more time.  Forum member Rob recently celebrated 2 years of freedom from smokeless tobacco and his wife greeted him with this absolutely outstanding cake!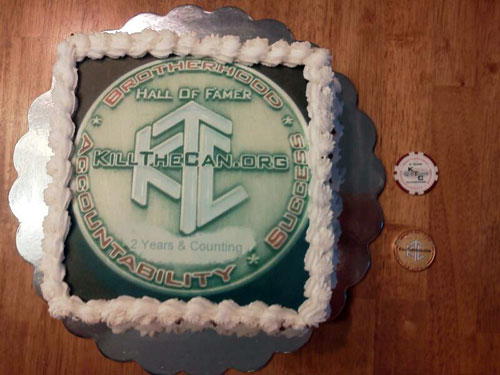 Talk about support!  It's stuff like this why I always tell people to absolutely OWN their quit.  I fully believe that you simply cannot have "too much quit".  If Rob hadn't have shared his quit with his wife, his struggles, his fears and his triumphs, then she never could have shown her support like this.  I'm guessing she's SUPER proud of her man for such a huge accomplishment.  Why take that away?
Sharing your quit sometimes comes into question when we're talking about "ninja dippers".  A ninja dipper is someone who's hidden their addiction from everyone around them (or at least they think they have).  My advice?  Let them in on it.  First of all, even though you think you were the best ninja ever, more than likely your wife knows you chewed… and she doesn't want to start a fight.  And even in the off case that she DIDN'T know if you come clean you're adding another level of accountability to your quit.  And as you know, at KillTheCan.org we're all about accountability.  Think I'm alone here?  Klark agrees with me.
I want to once again offer my (belated) congratulations to Rob for hitting his 2 year milestone… an absolutely amazing accomplishment sir.  I'm proud to be quit with you today.  And I'm going to shout it from the rooftops!