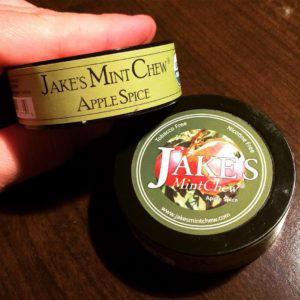 Back again this evening with a review of the newest flavor from Jake's Mint Chew. I'm thrilled to announce their newest flavor offering – Apple Spice!  Apple Spice is available in 10-tin packs, mix and match and variety pack orders.  This makes 11 total flavors for Jake's so if you're looking to try them all, the multi-flavor 11 tin variety pack is the way to go.
Certified USDA Organic, Jake's has been introducing new flavors with regularity.  Since I originally reviewed their products in 2010, Apple Spice marks the 6th new flavor.
Even if you're not a fan of flavored chew products (I never really was) you've got to give props to the guys at Jake's for their continued innovation in the space. Here's a quick video I shot that shows the packaging and consistency of the product itself.
Without further build up… here's my Apple Spice review.
Jake's Mint Chew Apple Spice Review
As with most of the Jake's products the stuff smells simply amazing. Even before opening the seal on the can I knew this wouldn't be a dud. Good amount of product that requires only a little bit of additional packing.
As I said before, I'm not typically a fan of flavored dip products and that's especially true when it comes to apple flavored products. There has only been one apple product that I can recall and it wasn't great. This is a HUGE step up and actually smells and tastes like apple. If I'm putting this on the apple scale from that sour Granny Smith and that super sweet Red Delicious I'd say it's definitely toward the Granny Smith side of things but without sourness. I'm dating myself a bit, but this really reminds me of Apple Jolly Ranchers.
Nice moist product that produces a good amount of dark brown spit the way all previous Jake's products have done. Kept this one in for my nearly my entire 30+ minutes commute and it held up the whole time. I will say that it probably smells more like apple than it tastes like apple if that makes any sense. Not saying it doesn't taste like it, but it REALLY smells like it.
Jake's Mint Chew Apple Spice – Ingredients
The ingredients list from the can (which now includes the USDA Organic stamp) include: Organic Mint, Organic Glycerin, Water, Organic Vegetable Oil, Organic and Natural Flavors, Gum Acacia.  Ingredients for this all Jake's products can be found here.
Apple Spice is available as a 10 pack, part of a split 10 pack and is also included in their sampler pack.  Per the site, "An 11 pack filled with 1 Apple Spice, 1 Wintergreen, 1 Straight Mint, 1 Spearmint, 1 Kola, 1 Cranberry, 1 Cherry, 1 Licorice, 1 Brandy, 1 Cinnamon, and 1 Blackberry. This pack is for those who want to try them all."  Jake's Mint Chew can be found on the web at www.jakesmintchew.com
As always, special thanks to Adam and Jake for providing samples for me to try and review.  Don't forget to check out our other smokeless alternative reviews (including reviews of other Jake's products).
Disclaimer: In accordance with FTC Guidelines, we hereby inform this site's viewers that we occasionally receive products for review purposes. At no time has payment has been made in order to elicit positive reviews. Affiliate links may be present in the above content. Read our disclosure policy for more info.
Have you tried Jake's Apple Spice?  Send us a review and we'll get it added to the site!