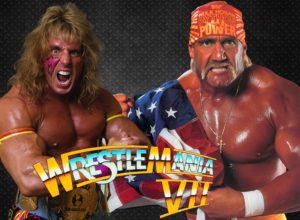 I've noticed a few things, being over a hundred days,
Aside from the HOF, and chatting with the "gheys",
There's a new sense of feeling, a sense you belong,
You've faced some bad days, but you remained strong!
Our HOF class is a pretty big size,
We are from all over, some dumb, some wise.
But what from here? What should come next?
I have the answer, and it involves some text!
All of us now, picked up by the quit train,
Need to find a young quitter, and share our quit brain!
Don't know about you, but can sure speak for me,
If it weren't for some old heads, no way I'd stay free.
We all owe a speech, but I think we owe more,
There's young quitters behind us, that don't know the score!
So all of you jokers with me in the Hall of Fame,
Get off your butts, cuz our quit ain't no game.
Share what you know, and get someone thru!
You already know, someone did the SAME for YOU!
PS: Today's photo is a promo from WrestleMania VII where Hulk Hogan faced The Ultimate Warrior in a title for title match. This became known as the "Ultimate Challenge".
NOTE: This is part of the Ode To The Quitter series written by KillTheCan.org forum member Phillip.
For more details see Ode To The Quitter.