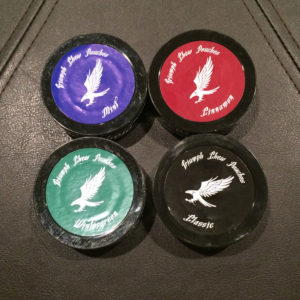 Back again today with a review of a new product on the market from Triumph Chew. They've recently released Triumph Chew Pouches in the same four flavors as their non-pouch products: Wintergreen, Mint, Cinnamon and Classic. As with their non-pouch products, these pouches come in three different "strengths" including Zero (non-nicotine), Half and Full.
PLEASE NOTE: This review ONLY pertains to the NICOTINE FREE version of these products.  I have not, and will not try the versions of this product that contain nicotine.  
All versions of Triumph Chew Pouches are available in their online store.  You can get single cans, 5 and 10 packs of a single strength, 10 packs of a single flavor in multiple strengths a sampler of all 4 flavors in a single strength.
Mint Triumph Chew Pouches
Started out with this Mint on my way to work one morning. As we saw in the video, the cans are PACKED with pouches that are very moist. Nice flavor that's consistent with the Mint non-pouch product and has a familiar flavor similar to Skoal Mint Bandits. Great start.
Cinnamon Triumph Chew Pouches
I'm not typically a big Cinnamon fan but these were nice. The Cinnamon flavor is definitely here but it's not overpowering. One thing I'm noticing is that these aren't as "spicy" as the non-pouch counterparts. I'm guessing that's the fact that the product isn't sitting directly against your gums so the pouch is sort of "blocking" some of that spice. For me that's a good thing.
Classic Triumph Chew Pouches
Probably my least favorite of the bunch but that's not to say it's not a good flavor. This boils down to personal preference and as I was primarily a Kodiak Wintergreen / Skoal Mint guy I tend to lean toward those flavors. If you were a Skoal Straight or perhaps a Cope fan this would be the one I'd suggest. Has that nice "warm" traditional tobacco flavor to it.
Wintergreen Triumph Chew Pouches
Ended on a high note. Nice traditional Wintergreen flavor here perhaps a bit on the sweet side if I'm looking for something to emulate my Kodiak but not as sweet as say a Hawken. This will be a good alternative for someone who's a Skoal Wintergreen Bandit fan.
Recommendation
I'm glad to see another vendor enter the pouch market. These are nice and moist and the cans are absolutely packed to the gills. In my can of Wintergreen pouches I counted 24. I didn't count the others but based on how full each can was I'm guessing similar numbers. Flavor profiles are good here giving you those traditional flavors (Mint, Wintergreen & Classic) adding Cinnamon in for a change of pace that's not too over the top.
Again, I want to point out that Triumph Chew offers versions of their products that contain nicotine and this review is only pertains to the NICOTINE FREE varieties. I have not and will not try the nicotine versions so I can't speak to those. I'd warn anyone who's getting these to truly understand which version of the product they're getting and I'd urge them to go with the nicotine free product.  Thankfully, Triumph does a GREAT job with their labeling so you know just what strength you're getting.
Special thanks to Dustin and Lauren from Triumph Chew for providing me samples to try and review.
You can purchase Triumph Chew from their website at www.triumphchew.com or visit them on Facebook.  All flavors are available in single, 5 packs or 10 packs.  Tell em KillTheCan.org sent you!
Disclaimer: In accordance with FTC Guidelines, we hereby inform this site's viewers that we occasionally receive products for review purposes. At no time has payment has been made in order to elicit positive reviews. Affiliate links may be present in the above content. Read our disclosure policy for more info.
Have you tried Triumph Chew?  Contact us and we'll add your review to the site!