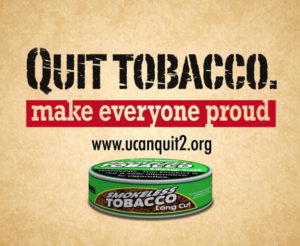 Recently, there was an event called the Great American Spit Out hosted by Quit Tobacco – Make Everyone Proud. The description of the event (from the GASpO website) is below:
Kiss smokeless tobacco goodbye for a day and get ready to pucker up. You'll be more attractive, increase your social network and improve the chance for romance. Whether you started using chew to be one of the crowd, or you thought it was a good way to quit smoking, here's your chance to finally ditch the dip.
The idea (similar to the Great American Smoke Out) is to raise awareness and get some folks kick started with their quit.  Just as KTC has a Facebook page so does the Great American Spit Out.  As you may have seen here in the past, I have a tendency to get in an "mix it up" with the some of the folks out there that say smokeless tobacco isn't that dangerous.  Naturally there were quite a few of these folks that came out of the woodwork on Facebook.  I thought some of the KTC blog readers may enjoy this.  Without further comment, here's everything in unedited format:
Venus Dimilo
Swedish-style snus is steam pasteurized (unlike dip and chew) reducing the level of carcinogens to the same level as a cup of french roast coffee. Sweden itself also has the lowest rate of cigarette smokers in the EU and the lowest rate of tobacco-related cancers.
Snus does not belong in the same sentence as snuff or chew. I wouldn't… expect you to encourage snus use but you are doing a great disservice by providing untrue information. Bad enough we have to put up with the "experts" who just announced that drinking one can of diet soda or any soda with caramel coloring doubles our risk of having a stroke……
KillTheCan.org
Sigh…
Chad Jones
KillTheCan.org – It's websites like yours demonizing all forms of smokeless tobacco and adopting the deadly "Quit or Die" mentality that is DOOMING the roughly 45mm+ people addicted to cigarettes and dip to an early grave. I can see how mu…ch you truly care about helping people quit their habit. Is addiction bad? Any addiction is bad. But switching to a form of tobacco that is much, much safer than dip and cigarettes and PROVEN (not just hearsay) to not cause any form of oral cancer, gum disease, tooth loss, lung cancer (need I say more?) is in the better interest of public health. It's people like you who are hurting people, not helping.
KillTheCan.org
@Chad – my website is dooming addicts to an early grave? How exactly? Seems to me that we're just here to provide a service for those that want to quit. *shrugs*
Chad Jones
Are you offering any other opinions on your website other than "QUIT" or "QUIT" or even this classic – "QUIT!"? I see smokeless alternatives, your merchandise that you sell, but what about people who are truly nicotine addicted? What abou…t the less than 10% who will try to quit and fail on their first attempt? In the interest of their health – shouldn't we offer other options? My whole philosophy on this – why I have my websites/blogs is to help people quit by switching to snus. Sure, it's another product with nicotine, and yes, nicotine is addictive. But if they physically cannot quit nicotine, "Quit or Die" doesn't work and we need to let people know there are other options.
KillTheCan.org
@Chad – I (like you) was addicted to nicotine. My brand of choice was Kodiak. A can and a half per day for over 18 years. I think it's safe to say that I was just as "addicted" as anyone out there. I was able to quit. People who say they "…can't" quit are making excuses – my opinion. I'll never tell anyone that it's easy, and I'll never tell anyone that it won't hurt. What I have said time and time again is that I think being free from addiction is totally worth whatever you go through to attain it. Again… my opinion.
I've never said (as far as I can recall) that Snus ISN'T a "safer" alternative to smoking (or dip for that matter). To be fair though, I also feel that a bullet is a "safer" alternative to a bomb. The unfortunate reality is they will both kill you.
As I think I've proven, I'm more than willing to have an educated discussion. Please don't lump me in with the "everyone must quit" crowd.
Chad Jones
Could you show me some studies or documentation that snus will kill you? I'm curious.
KillTheCan.org
@Chad – could you show me some studies that show using snus is better for you than not using it? I'm curious.
Chad Jones
The indirect attack. The anti-tobacco zealots love that one.
Chad Jones
That being said, I never said using snus was not better than using it. Not drinking coffee is better than drinking coffee. Not getting oral sex is….well, agree to disagree. But a recent study found that oral sex has a higher cancer ris…k than smokeless tobacco due to HPV. Regardless of ANY of these things the simple fact remains. People are addicted to nicotine and some can't quit. If I can help someone go from a product that can kill them to a product that doesn't have a risk of cancer I can sleep a lot easier at night. It's why I'm so passionate about it. I quit smoking after a 6 year habit and started using snus in May of 2009. I still use snus because like so many people the simple fact remains – I am addicted to nicotine. Am I staring death in the face now? Not at all. No risk of cancer as the studies have shown, I'm free to live my life. It's why I encourage so many people that can't quit cold turkey to try snus. And I will continue to do it in the face of all the anti-tobacco folks and zealots that say quit or face the consequences. I'm here to say, "If you can't quit – try snus."
KillTheCan.org
@Chad – we're at a point where we're going to have to agree to disagree. You continue to say, "If you can't quit – try snus". That's fine and I have no argument with you there.
However, I truly believe that the concept of "I can't quit"… is nothing more than your addiction talking. You are enabling yourself to continue. That being said, I know that there are MANY people out there who maintain the "I can't quit" mentality. I honestly do with you well in your quest to help them.
Chad Jones
Agreed.
We then followed up that gem with this one.  Please note that I don't think these people are trying to be incendiary on purpose… they're just misinformed.
Venus Dimilo
For everyones sake, I wish DOD had kept the facts in mind here. The GASpO press release defines smokeless tobacco as "spit, dip, chew, snus, etc".
Swedish snus, which represents about 95% of the snus used in the US and world-wide, is not dip or chew. It is spit-less so no spit cup needed. Since the SFNA, the Swedish version of our… FDA, began regulating snus as a food product in 1970, there is not one documented case of snus causing mouth cancer, throat cancer, tooth loss, gum disease, stomach cancer or oral lesions. Zero; not one; never, since the SNFA began tracking it over 40 years ago.
Emily Wilber
it causes pancreatic cancer
Venus Dimilo
Cite the study of snus, that bears this claim out. I am interested in reading it in order to be more informed.
KillTheCan.org
Ignorance is bliss…
Jake Foreman
Right all tobacco is bad? I smoked for 17 years and stopped the day I started snus. Do people really have nothing better to do than run around worried about what other people do? Get a job or a life and get the facts straight before you lump Snus in with everything else.
KillTheCan.org
@Jake – I suppose you're right… all tobacco is not bad. As long as you don't mind being a slave to the nic fix. And for what it's worth, I have a job and a life. And thankfully, my life will be much longer now that I'm quit. Quite frankly I don't care what others do with their life… I've never been one of those "you HAVE to quit" people. Just providing a service for those that WANT to quit.
Chad Jones
KillTheCan.org – It must be, you truly live in it. Maybe you should do some research yourself into snus and quit working against the harm reduction movement.
KillTheCan.org
@Chad – the greatest "harm reduction" would be to quit. Just saying.
Chad Jones
I'm sure it would be. In a perfect world, everyone can "just quit". Just put down the can or the cigarette and walk away. But what about the people who can't? What about the people who are so truly addicted that they can't do that? Isn't it fair to them that they have other options? The greatest injustice anyone can do to these people is to tell them quit or die. That's not fair. That's not nice.
KillTheCan.org
@Chad – as I said in another comment I feel that people who say they can't quit are making excuses. Making that statement may not be "fair" or "nice" but then again, neither is cancer.
Chad Jones
Tell that to the people who will try and quit on their first attempt and not be exposed to other options. Tell that to the people who have lost mothers, fathers, brothers, sisters to cancer. Tell that to people who didn't believe there were other options. Tell that to people laying in early graves that were just "making excuses".
KillTheCan.org
@Chad – just so I'm clear. It's my fault that people are dying because they choose to continue using nicotine?
Chad Jones
Not your fault. But every single person who does anything to allude people to thinking that "quit or die" is how it works, and that there are no other options other than "cold turkey" has their hand in the proverbial bloodbath.
Chad Jones
And nicotine doesn't kill people.
Lyrical Sativa
Actually People that switch to snus tend to be a bit healthier than those that quit. Nicotine doesn't kill. You could put a cotton ball in your mouth in the same spot for hours a day and end up with oral cancer. The TSNA of cigs are in the thousands parts per million, dip is in the hundreds parts per millions. Snus…1-3 ppm. single digits. irrelevant.
KillTheCan.org
@Lyrical – good… lord. Did you honestly just say that people that use Snu (a product that contains nicotine) are HEALTHIER than people who do not use it? I simply cannot continue this conversation with such levels of idiocy. I never wish people "luck" in their quits because I honestly don't think "luck" has anything to do with a successful quit. That said… good luck to you sir.
Lyrical Sativa
You obviously misread what I wrote. I said people that use snus INSTEAD of QUITTING are healthier than those that QUIT the majority of the time. The studies are out there. With that being said I've been "quit" for near 2 months of all forms… of tobacco/nicotine. I'm stressed, irritable, and quite the asshole to be around. If you honestly want to make a difference. Stop worrying about what people want to do to themselves and focus on things that actually matter. Like Gaza Strip. Do something to make the world a better place instead of a select few people better.
Chad Jones
I will agree on one thing here – it's been studied to show that snus decreases the risk of multiple sclerosis between that of a snus user and a non snus user. Interesting factoid. 🙂
Lyrical Sativa
Also while you're at it why don't you look at the benefits of NICOTINE. Not Tobacco, but simply nicotine. It treats ADHD just as/more effectively than Ritalin and Adderall. Both are which Amphetamines.
KillTheCan.org
@Lyrical – nope, I read what you wrote just perfectly. You said it again. You clearly stated that people that use snus instead of quitting are healthier than those that quit. So that means you're suggesting that USING a product that contains nicotine is healthier than not using it. That's simply ludicrous.
As for me worrying about others and making a difference… did I suddenly wander into a Gaza Strip discussion? I was under the impression that we were talking about using (or quitting) tobacco and nicotine products. Silly me.
As for the benefits of nicotine – I won't debate that there aren't some positive therapeutic uses. However, if I'm willing to concede that (in some select cases) PLEASE don't suggest that those positives outweigh the connection to circulatory disease, developmental issues and addiction potential.
I think this guy was just trying to be cute.  Unfortunately he was a tad on the ignorant side.
Andrew Coffiey
george washington and robert E lee Moses dipped and look at them y would i ever wana stop now??
KillTheCan.org
Um Andrew.. I hate to point it out, but they're both dead 😉
See what you're missing by not being friends with us on Facebook?  Head on over and get in on the conversation!  http://facebook.com/KillTheCan.org