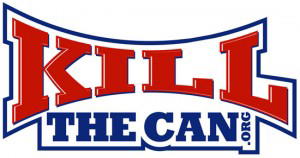 It's pretty cool to be at 100 days nic free. To be honest I never thought I would really do it when I started. This was going to be the latest attempt to satisfy my family that I tried, now I wonder why was it different this time , Why did I make to 100 days snuff free. I had great support here and at home. I've always told my boys if they tried tobacco or drugs I would make them bleed, well my boys are both big enough to make me bleed now and promised to do so if I started using snuff again. My wife has been great and has supported me with encouragement and all the sunflower seeds and pepermint candy I can stand.
Now why was it different this time, I used snuff for over 26 years, I enjoyed rubbing snuff it was my thing. I was lucky to find KillTheCan.org, realizing that I was a nicotine addict and not special with my addiction was step one. Realizing that I had the ability to quite AND I wanted to quite was step two. Step three just do it, and realize your not alone or special or addicted more than anyone else.
Thank you to everyone here and to my family.
NOTE: This piece written by KillTheCan.org forum member Snider4