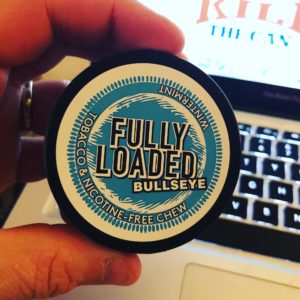 Sitting down tonight to do a long overdue review. Fully Loaded Chew was developed right down the road from me in Akron, Ohio by former dippers with a goal: "a tobacco-free chew that doesn't suck". (Their words… not mine). Fully Loaded Chew currently offers four flavors: Wintergreen, Mint, Cherry and Classic. All are available for purchase on their website fullyloadedchew.com. This review will cover Wintergreen, Mint and Cherry. They also 3 different strengths including Fully Loaded (full nicotine strength), Half-Cocked (half nicotine strength) and Bullseye (zero nicotine).
PLEASE NOTE: This review ONLY pertains to the NICOTINE FREE (Bullseye) version of these products. I have not, and will not try the versions of this product that contain nicotine.
This is the first time in quite some time that I've reviewed a traditional (not a pouch) alternative product. Immediately upon cracking open the cans I knew I had some good stuff in front of me. All three flavors that I sampled were moist and packed great. This isn't quite a fine cut but it's not quite a long cut. It's somewhere in between but it holds together great in my mouth and doesn't float all that much. All three flavors have a "burn" to them which is nice and they all produce a boatload of spit.
Fully Loaded Chew hasn't provided their ingredients list but they do have this on their site: we can tell you that we use mint leaf, arrowroot, molasses, and salt, combined with natural and artificial flavorings to make Fully Loaded Chew taste, feel, burn and buzz just like your favorite tobacco chews.
Fully Loaded Bullseye – Cherry
I started my night with Cherry which for me is sort of rare as I typically start with Wintergreen. If you know my chewing history you know that I was primarily a Kodiak Wintergreen guy but there were several years in there where I was a Skoal Cherry man.
This was an outstanding substitute for Cherry fans out there. Great Cherry flavor that really reminded me of my Skoal days. Not sure if that's a good thing or a bad. This did have a bit more burn than I remember Skoal having but I think it's fair to say that if you're looking for an alternative that's close to the real thing then Fully Loaded Chew may be one you'd like to check out. Strong start to my night… strong recommend.
Fully Loaded Bullseye – Wintergreen
Next up was Wintergreen. This again was a very nice chew full of flavor and produced a lot of spit. I'm not sure if you can swallow the saliva that is produced so I didn't. My guess (based on the few ingredients that are available) would be that's it's ok to ingest but I can't be certain.
If I'm trying to peg a particular brand of Wintergreen this reminds me of I'd say it's somewhere between Skoal Wintergreen and Kodiak. It's too sweet to be spot on Kodiak but not quite what I remember Skoal being either. It's not as sweet as something like Hawken.
Overall a good Wintergreen alternative but like the Cherry before had a bit more "bite" then I recalled.
Fully Loaded Bullseye – Mint
Finished out my review with Mint. Note that my can was labeled as "WinterMint". I reached out to the folks at Fully Loaded and they let me know that they had tweaked formulas since I got mine for improved pack, flavor, texture and moisture.
This was very nice as well, though if I'm being honest not too much of a departure from Wintergreen. I'd be interested to see the difference in flavor after the update. Certainly not a bad chew by any stretch… in fact just the opposite. It's very good. Just not quite different enough from the Wintergreen I'd had before.
Fully Loaded Chew Recommendation
All in all Fully Loaded Chew has created an outstanding product line for folks looking to quit dipping. Their flavor profiles are more of the "traditional" dip flavors so this is for the folks that are looking for a fake dip that's close the real chew.
Fully Loaded is another smokeless alternative that offers versions of their products that contain nicotine. I'd warn anyone who's getting these to truly understand which version of the product they're getting and I'd STRONGLY suggest them to go with the nicotine free product. Thankfully, Fully Loaded Chew does an outstanding job with their labeling and on their website so you know just what strength you're getting.
Special thanks to the folks at Fully Loaded for providing me samples to try and review.
You can purchase Fully Loaded Chew from their website at fullyloadedchew.com or visit them on Facebook. All flavors are available in single, 5 packs or 10 packs or you can "subscribe" to have regular deliveries sent your way. Tell em KillTheCan.org sent you!
Disclaimer: In accordance with FTC Guidelines, we hereby inform this site's viewers that we occasionally receive products for review purposes. At no time has payment has been made in order to elicit positive reviews. Affiliate links may be present in the above content. Read our disclosure policy for more info.