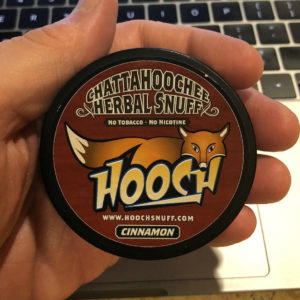 It's been too long but I've finally found some time to sit down this morning and get to another product review. Today I'm taking a look at the new(est) flavor from our friends at Hooch Snuff – Cinnamon. I do have to preface this by saying I'm generally not a fan of cinnamon. I tend to be a guy that gravitates toward the traditional chew flavors (wintergreen, mint, etc.) as I was a Kodiak Wintergreen guy for the majority of my dipping days. That said, let's get into it.
Hooch Cinnamon Review
Flavor wise this is just what you'd expect from a cinnamon flavored chew. Not what I'd call "bold" but it's definitely cinnamon. As I said in the intro I'm really not a fan of cinnamon chews but if you are I can really see you enjoying this one.
The thing that I always appreciate with Hooch products is that you know you're getting a high quality product. Since day one they have been producing one of the most moist and consistent products available. I'm a huge fan of the ROUGH variety as well as it's the closest to a long cut the alternative market offers. This ROUGH cut packs well, stays together in my mouth and produces a ton of dark brown saliva.
Not much else to say. If you're a fan of cinnamon I'd say definitely give this one a try. If not you may want to steer clear.
You can order Hooch Cinnamon as well as their other product on their website at www.hoochsnuff.com
Special thanks to Chet May from Hooch Snuff for providing me samples to try and review.
Disclaimer: In accordance with FTC Guidelines, we hereby inform this site's viewers that we occasionally receive products for review purposes. At no time has payment has been made in order to elicit positive reviews. Affiliate links may be present in the above content. Read our disclosure policy for more info.
Have you tried Hooch Snuff Cinnamon yet? Contact us and we'll add your review to the site!