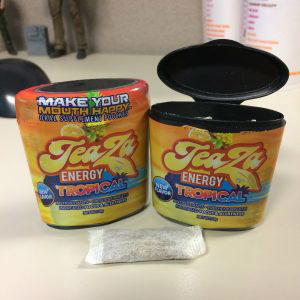 Back again this evening bringing you a review of another new flavor from our friends at TeaZa – Tropical!
If you're not familiar with TeaZa you can check out my original review of their products here or their other flavors Cool Mint, Black Cherry or Bangin' Black Cherry. TeaZa are small pouch products designed to boost energy and mental focus while providing oral satisfaction. The packaging of TeaZa Tropical says it contains, "Antioxidants, Freshens Breath" and offers "Increased Focus & Alterness".
TeaZa has switched from a traditional tin (similar to the way dip is sold) to a flip top container that comes with 10 pouches. Also, I've never tried it but the packaging says to, "Energize Your H2O. Add to your favorite bottled water." I'll have to give that a shot and let you know what I think.
TeaZa Tropical Pouch Review
Yet another great flavor from TeaZa. Very welcoming flavor when opening the lid and I immediately start thinking of a drink you'd get on vacation with an umbrella in it. It's a mix between that and some tropical bubble gum flavor that I can't quite put my finger on. I have to say that I don't really get much of a "tea" flavor coming through until WELL into my chew (say 30+ minutes or so). That said, once that does kick in I'm getting a bit of "bitter" flavoring. Even though spitting isn't necessary, TeaZa pouches produce quite a bit of saliva. I used two pouches for my review but one does the job as well.
As with other TeaZa flavors there is a potential down side here when it comes to a dip quitter, especially one who is looking for a substitute to the "traditional" smokeless tobacco flavors such as Wintergreen, Mint and Classic. Tropical tastes outstanding but it's got a very "flavored" flavor if that makes any sense. If you're looking for something that tastes close to a specific brand of dip (Grizzly, Copenhagen, etc.) you're not going to get it here.
With that small negative out of the way I've got to say this is another great outing from TeaZa and I'm thrilled that they continue to offer new products. TeaZa Tropical is generally a GREAT pouch that I'd definitely recommend to someone who's looking for a flavored alternative.
TeaZa Tropical Pouch – Ingredients
Yerba mate leaf (Ilex paraguariensis), Glycerin, Green tea leaf (Camellia sinensis), Eleuthero root (Eleutherococcus senticosus), Caffeine (natural from coffee beans), Rhodiola root (Rhodiola rosea),Panax ginseng root (Panax ginseng), Vitamin B5 (as di-calcium pantothenate), Sucralose, Vitamin B3 (as niacin), Gymnema leaf extract (Gymnema sylvestre), Tropical fruit blend, Natural flavors, Citric acid
TeaZa Tropical is available on the TeaZa website now.  You can get it in a Flip Top that contains 10 pouches or you can get a 4, 8 or 16 pack of pouches which will save you money.
Special thanks to the folks at TeaZa for providing me samples to try and review.
Get your TeaZa Energy Pouches at their online store here or on Amazon.  Tell em KillTheCan.org sent you!
Disclaimer: In accordance with FTC Guidelines, we hereby inform this site's viewers that we occasionally receive products for review purposes. At no time has payment has been made in order to elicit positive reviews. Affiliate links may be present in the above content. Read our disclosure policy for more info.
Have you tried TeaZa Tropical Energy Pouches?  Contact us and we'll add your review to the site!