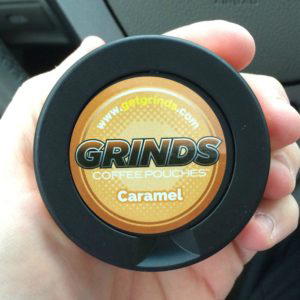 I was first introduced to Grinds Coffee Pouches years ago before co-founder Patrick Pezet and Grinds was featured on ABC's Shark Tank. They didn't rest on their success and they churned out some new flavors a while back and they're at it again.
Introducing Grinds Caramel!
You can read my original review of Grinds Coffee Pouches here. That review includes the flavors Cinnamon Roll, Mint Chocolate and Mocha. My follow up review of their newer flavors Peppermint and Vanilla can be found here. If you're not familiar with Grinds, they're different from other smokeless alternatives as they're made out of… you guessed it… coffee grinds.  All flavors of Grinds are pouch products which these days I really dig as you don't have to deal with cleanup or little bits of chew floating around the back of your throat. Each pouch as the caffeine equivalent of a 1/4 cup of coffee as well so you'll get a nice little "pick me up" to boot.
Grinds Caramel Ingredients
Coffee, Water, Glycerol, Natural & Artificial Flavors, Caffeine, Acesulfram, Sodium Carbonate, Potasium Sorbate
NOTE: I love to call out good packaging. Grinds comes in a round plastic tin complete with a top compartment to store your used pouches. Additionally, each can has an ingredients list and a "best before" date imprinted on it. This is something that very few alternatives have these days and I really appreciate it.
Grinds Caramel – Thoughts & Recommendation
In a word: WOW. This stuff is amazing. Whenever I sample these products I always make sure to spit to ensure A) there's enough saliva produced and B) what color it is. As with all the previous Grinds products I've reviewed there is more than enough dark brown saliva produced. This is one of the first times though (Teaza Bangin' Black Cherry being the other) where I DON'T spit when using a fake dip product. As Grinds is a product made from coffee you're essentially brewing coffee in your mouth as you use it so it's meant to be ingested. So I did just that. There were a couple of times after I'd initially tried the product where I popped a pouch in while sitting at my desk at work.
The caramel flavoring here is spot on. The best way I can describe this is if you went to your favorite coffee spot and got a nice dark coffee with caramel flavoring – that's what you're getting with Grinds Caramel. As with other Grinds products, if you're not a coffee fan this one won't be for you, but if you're a fan of a cup of joe Grinds Caramel is a strong recommend.
I'd like to offer special thanks to Patrick Pezet for sending along samples for this review.  You can find Grinds on the web at getgrinds.com or on Twitter you can follow user @getGRINDS. Tell em KillTheCan.org sent you to be a part of #TeamGrinds!
Disclaimer: In accordance with FTC Guidelines, we hereby inform this site's viewers that we occasionally receive products for review purposes. At no time has payment has been made in order to elicit positive reviews. Affiliate links may be present in the above content. Read our disclosure policy for more info.
Have you tried Grinds Caramel yet?  Let us know what you think and we'll add your review to the site!