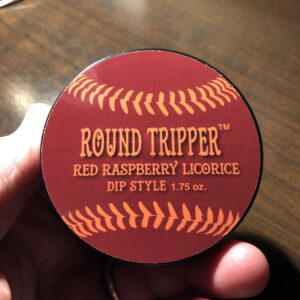 As the kids say, it's been about a minute, but I'm back tonight with another product review. (Do kids really say that? I sort of doubt it… anyhow). Back again with a new product from Long Ball. They've got multiple products including their traditional plug style alternative, their red raspberry plug style and their dip style product.  They're at it again now adding Long Ball – Round Tripper Red Raspberry Dip Style to the mix!
If you're not familiar with Long Ball's products their candy licorice made in Australia. The company was founded by Andre Chiavelli, a former employee of the New York Yankees and is exclusively licensed by the Babe Ruth Family.
Long Ball Round Tripper Red Raspberry Dip Style Review
Once again this is pretty straight forward. It's red raspberry licorice and it tastes amazing. Pop two or three between your cheek and gum and you're dipping. It's a food grade candy product so you don't need to spit. Honestly that's my only real "complaint" with this product. It tastes so great that you're going to forget you're using it as a substitute and you're just going to eat it. I went through an entire can in one sitting.
The packaging is pretty straight forward as well with a plastic can that contains 1.75 oz of product. The product in the can is packed within a plastic bag, presumably to ensure you're getting a fresh batch every time. There is no "use by" date on the packaging but it does suggest you keep it in a cool dry place.
Long Ball Round Tripper Red Raspberry Dip Style Review Ingredients
Glucose Syrup (wheat), Sugar, Flour (gluten), Water, Vegetable Oil, Licorice Extract, Natural Raspberry Flavor, Artificial Color (FD&C Red #40), Mono and Diglycerides (emulsifier), Vegetable Oil (palm), and Carnuba Wax (glazing agents)
Long Ball Round Tripper Red Raspberry Dip Style can be purchased on their website. Special thanks to Andre for providing a sample for me to try and review.
Give them a like and a follow and tell em KillTheCan.org sent you!
Disclaimer: In accordance with FTC Guidelines, we hereby inform this site's viewers that we occasionally receive products for review purposes. At no time has payment has been made in order to elicit positive reviews. Affiliate links may be present in the above content. Read our disclosure policy for more info.
Have you tried Long Ball Round Tripper Red Raspberry Dip Style? Leave a comment and let us know what you think!