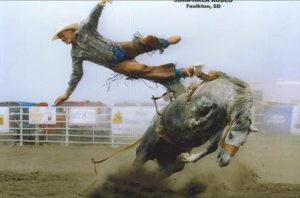 This HOF speech is about 37 days late.
I dipped Copenhagen LC for about 7 years beginning in high school. I had a girlfriend that didn't care that I dipped, tons of friends that dipped, a boss that didn't care that I dipped at work, so no real pressure to quit. I had never once in my 7 years of dipping even attempted to quit. This was my first go at it and I stopped cold turkey with a full can of Copenhagen in my glove box. Thank God I found KTC on day 2, b/c it turned my quit from an attempt to an actual Quit. This site is the ticket.
The Fog was horrible, but really, I had experienced the fog all the time whenever I went too long without taking a dip. I would get dizzy, my eyes would start watering, and I couldn't focus. The highs and lows of dipping were miserable. I think that's what made we want to toss the habit.
I also rodeo and hunt a lot and always felt tough taking a dip. I felt like it further defined my character.
Now that I'm quit, I've never felt so cowboy.
NOTE: This piece written by KillTheCan.org forum member CrazyHorse