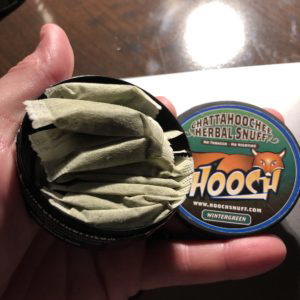 Back this evening with yet another long overdue (but very welcome) review of a NEW product from our friends at Chattahoochee Herbal Snuff – introducing Hooch Snuff – FAT PACKS! It's been just over year since I first reviewed Hooch's first entrance into the pouch game with their PACKS product. They're back at it again with their four traditional flavors (Mint, Wintergreen, Classic and Spitfire).
Hooch FAT PACKS Background
Here's some background on these products directly from Hooch before I get started with my review:
Our Fat Packs are double the size of our regular Packs.  No need to use 2,3 or more pouches to get the right mouthfeel.  They are also a good alternative for long leaf chew users.  Each tin contains 10 Fat Packs.
The pouches come dry, but contain significant flavor to initiate salivation quickly.  If you prefer a moist pouch, you can always add a couple of drops of water (or liquid of your choice) to the pouch prior to use.
We will be rolling out our other flavors over time.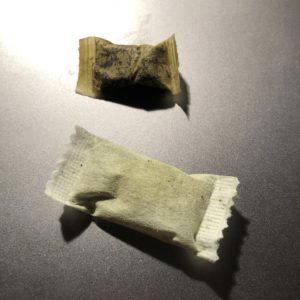 Hooch FAT PACKS Review
Just with the regular size pouches these come dry. That said, they do produce a good amount of saliva right out of the gate so it's really not an issue. If you didn't know they're supposed to be dry you may be inclined to return them thinking you got a bad batch – you didn't.
With nearly all of my pouch reviews I'm using multiple pouches – two or three typically. These FAT PACK are the first one that I really feel like you COULD get away with a single pouch. I still didn't, I went with two for my reviews, but I could have gotten away with a single pouch and have been satisfied.
The flavors here are very similar to the PACKS products. Both Wintergreen and Mint have great flavors that remind me of Wintergreen and Mint Bandits with their flavor profiles. I will say that the Mint ones take on more of a true 'mint' product than I would have liked. Not quite sure how to explain it other than it didn't feel quite as close to a true pouch as the Wintergreen one did.
Classic is SPOT on for a classic dip flavor and smell. I was never a big fan of 'classic' so when I get that shiver I know it's right on the money. Even though it wasn't my favorite flavor when I was an active dipper I find that these pouches really are nice and 'soothing' if that makes any sense.
Spitfire and I have had an odd relationship through the years. From way back when I first reviewed Hooch products it was just too hot for my liking. At this point I think it may be one of my favorites. It's still got way more of a kick than any of the other flavors and these days I'm loving it.
Hooch took a good long while getting into the pouch game but once they did they're knocking it out of the park. The PACKS were great and now the FAT PACKS are perfect for someone (like me) who likes to take a nice large dip. Yet another winner from Hooch. Can't wait to see what flavor is next!
Hooch FAT PACKS Ingredients
Ingredients for all Hooch products can be found on their website here: Hooch Snuff Ingredients
You can order Hooch PACKS as well as their other product on their website at  www.hoochsnuff.com
Special thanks to Chet May from Hooch Snuff for providing me samples to try and review.
Disclaimer: In accordance with FTC Guidelines, we hereby inform this site's viewers that we occasionally receive products for review purposes. At no time has payment has been made in order to elicit positive reviews. Affiliate links may be present in the above content. Read our disclosure policy for more info.
Have you tried Hooch Snuff FAT PACKS yet?  Contact us and we'll add your review to the site!