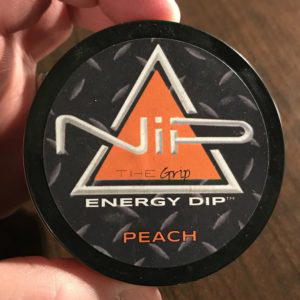 Back again today with some new product from Nip Energy Dip. They've released two new flavors of their smokeless alternative which is made from natural sea sponge. Introducing Nip Energy Dip Peach and Vanilla. You can check out my initial review of Nip Ice here as well as a more recent look back at the product here.
Nip Energy Dip Peach Review
The product itself hasn't changed much since I first reviewed it. Great smell and the flavor "burst" when you pop it in. There really is a surprising amount of juice here. Nice subdued Peach flavor that really does taste like peaches. It sounds silly but I always like to point that out as some of these flavored dips may taste good but don't taste like the flavor they're going for. This one does which is a good thing.
The energy "juice" produced by this product is made to be digested but the sponge itself is not. Don't let this one "float" too much in your mouth or you'll get pieces of sponge in the back of your throat. When I first tried this is didn't put it in like a normal dip… just sort of threw it in my mouth and worked it This is something you can't do with a normal dip product but can do with Nip since it's sponge. I was surprised at how quickly the juice / flavor went away. When I used this more like a traditional dip this wasn't so much of an issue.
Nip Energy Dip Vanilla Review
Once again I have to point out that this product tastes like the flavor it's supposed to. Nice warm vanilla flavor here which reminds me of cooking with my mom when we used to put vanilla in her Christmas cookies. The product itself (the sponge) is amazingly consistent. Quite literally the only thing that's different from can to can is the flavor. For folks that use these alternative products regularly this is an outstanding quality.
Final Thoughts
Nip Energy Dip is an incredibly different player in the smokeless alternative world as it is the only product out there made from all natural sea sponge. It is infused with Vitamin B-12 and caffeine so you could put this in the "supplement" category as well as a fake dip. As with my original review I have to point out that this one is still "rough" to me and if I was using fake dip with any regularity I'd have a hard time with this one ripping up my gums. That said these new Peach and Vanilla flavors are awesome and they're quite a bit different from other products out there. If you're a flavored dip fan give these a shot and let us hear from you.
You can find Nip Energy Dip on their website at www.nipenergydip.com or on Amazon. You can get a single can, a 6-pack, a 12-pack or a sampler pack with all three flavors. Special thanks to Lexi from Nip for providing me samples to try and review.
Disclaimer: In accordance with FTC Guidelines, we hereby inform this site's viewers that we occasionally receive products for review purposes. At no time has payment has been made in order to elicit positive reviews. Affiliate links may be present in the above content. Read our disclosure policy for more info.
Have you tried Nip Energy Dip Peach or Vanilla? Contact us and we'll add your review to the site!