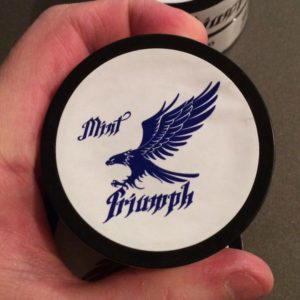 I just wanted to put my opinion out here on Triumph Herbal Chew, from Montrose, CO. I chewed Skoal Wintergreen Long Cut for about 20 of the 25 years I dipped. I was very grateful I found this website that introduced me a lot of great alternatives to tobacco.
Triumph was probably my 5th dabble with these fake dips. My first impression was that the label looked pretty generic, but what a delicious herbal chew! Being a wintergreen guy, I started with that flavor. The stuff was very moist and had a great taste and spitability to it. It lasts just as long as the real dips do. I was really depressed when the 2 cans I sampled were gone.
So the next order included all 4 flavors offered by the company (wintergreen, mint, classic and cinnamon). Already impressed with the Wintergreen, I started with the mint. Let me say, this mint, IMO, is probably the best mint flavored herbal snuff available…again, IMO. If Skoal wintergreen was my habit, Skoal mint was my second choice. The funny thing is, Triumph website states that most wintergreen dippers like the mint, I definitely agree!
The second I sampled was the Classic flavor. This was a very interesting flavor. I cannot place a finger on what this flavor is…maybe a straight flavor? Whatever it is, I thoroughly enjoy this one better than the Wintergreen. Again, the website states Classic is becoming the number 1 seller in their store front in Colorado. I really do like the taste of the classic, it does have some spice to it…but it's the taste in the back of the throat I liked most (again, I couldn't place a finger on "what" the taste was).
Lastly, I tried Triumphs cinnamon flavor. I have to admit, I'm not a big chew "flavor" guy, but this was a nice "treat". If anyone out there has ever had "hot tooth picks" when they were a kid (dating myself here), this is that, in a dip form…it was good, just not something I'd always choose like the Classic.
Overall, I have to say the makers of Triumph make a pretty dam good product that quitters can use to help with the quit. Also, I emailed the owner to tell him I was very happy with their product and wanted to know "what" it was. The owner (Dustin, a nice man) contacted me promptly and said it was: mint leaves, vegetable glycerine, water, cayenne, natural and artificial food grade flavoring and some salt, that's all…all food grade stuff.
Oh! And I only tried the zero strength stuff, they sell it in full strength, half strength and zero strength nicotine. No more nicotine for me, as I am on day 54 free. Give this product a try folks, it's awesome!!
Note: This review was sent in by KillTheCan.org forum member JAYP