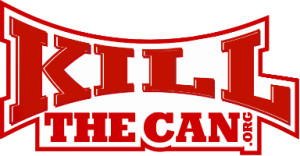 It feels like eternity ago when I decided to quit dipping once and for all. Sure I had stopped for small periods of time in the past, but this time I was determined to do it forever now. I called by doctor and asked that he put me on Chantix, and yes I know some of the Vets opinions about Chantix, but it contains no nicotine. So I began taking it as prescribed, and then quit tobacco on November 27th. I was still having cravings so in the evening time I would google different sites about quitting dipping, that is when I came across Kill the Can. I began reading the website and found it to be a great wealth of knowledge….. Then I stumbled into the chat room that is when a few of the members asked if I was posting role with my month… I had no clue what they were asking, and had to get pointed in the right direction. So I began posting role every day and reading the boards on a daily basis, as it was a great way to get my mind off dipping.
I guess I hid my quit well because it took over a month for my wife and kids to even notice that I was no longer dipping…. and to be honest, the excitement in my children's faces when they heard I was finished using tobacco was worth every withdrawal symptom I overcame. Even to this day they say something, almost once a week, about how happy they are that I no longer dip…. not to mention all the money I am now saving, around 10 dollars a day.
With all the pain of quitting I also discovered a side effect that I was not expecting…. I no longer drink much at all, actually very little now days, and because of this I have managed to lose 30lbs since I quit dipping. Now I have time for the gym and running every night without trying to get finished as soon as possible for that first beer and dip after a hard workout, and now I am up to running 8 miles every time I run.
I knew this would not be an easy process, but I can honestly say that without my group of fellow quitters I know that I would not have been able to do this. I might not have participated a whole lot, but I read the forums nightly and made it a point to post every morning. I would like to thank everyone in March because you have either directly or indirectly affected my quit in a positive way, and also Beth and Jake for the reminders when I missed the morning post….
Now on to the next milestone, since 100 is just another number….. we all know that we must keep this up because we can ruin a quit with just one slip up… as we have seen others come back after making it to 100 only to be back at day 1, and I personally don't ever want to go through that shit again for as long as I live.
NOTE: This piece written by KillTheCan.org forum member MattO